Local Weather Forecast
Issued at: 05:00 PM , 19 May, 2022 (Thursday)Valid Beginning: 5:00 PM today until 5:00 AM tomorrow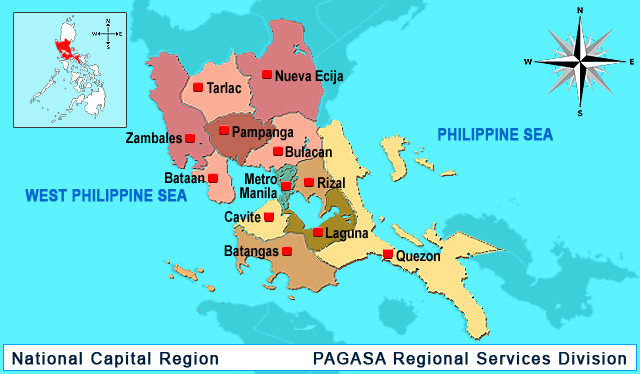 Weather Situation:
Metro Manila, Central Luzon (except Aurora), and CALABARZON will have cloudy skies with scattered rainshowers and/or thunderstorms.
Light to moderate winds blowing from the southeast to the south will prevail and the coastal waters along these areas will be slight to to moderate.
Local Weather Forecast PDF
Regional Weather Outlook PDF
Regional Weather Forecast for GMMA PDF
Read more...
Rainfall Warning
Rainfall Advisory No. 2 Final
Weather System: SOUTHWESTERLY SURFACE WINDFLOW
Issued at: 06:43 AM , 20 May, 2022 (Friday)
All Rainfall Advisory over NCR-PRSD forecast area are now TERMINATED.

The public and the Disaster Risk Reduction and Management Offices concerned are still advised to MONITOR the weather condition.

For more information and queries, please call at telephone numbers 8922-1992 and 8927-1335 or log on to bagong.pagasa.dost.gov.ph.
Thunderstorm Advisory
Thunderstorm Advisory No. 6
Issued at: 03:24 AM , 20 May, 2022 (Friday)
HAZARD
CONDITION
AREA/S
DURATION

Moderate to Heavy rainshowers with lightning and strong winds
Affecting
Quezon(SanNarciso, Buenavista, Mulanay, SanFrancisco) and may affect nearby areas.
2 hours
Thunderstorm in other areas are now terminated. All are advised to take precautionary measures against the impacts associated with these hazards which include flash floods and landslides. Keep monitoring for updates.
THUNDERSTORM LEVELS

Level

Symbol

Meaning

Advisory

Thunderstorm threatens specific area within the next 2 hours.

Watch

Thunderstorm is likely to occur within the next 12 hours.

Information

Thunderstorm is less likely to occur within the next 12 hours